Southern Brunch Quiche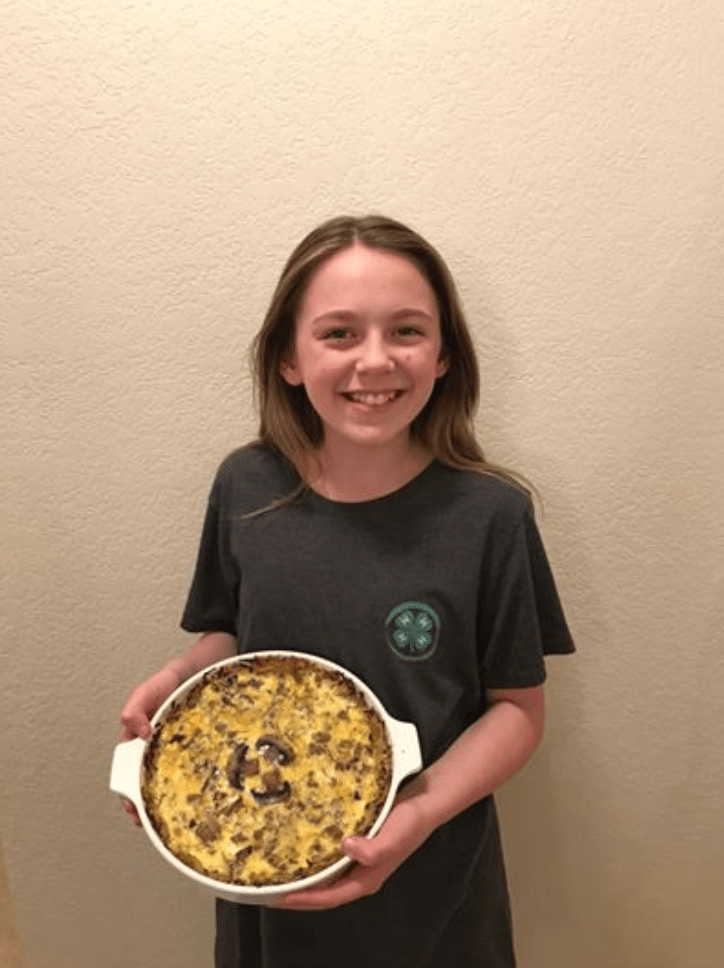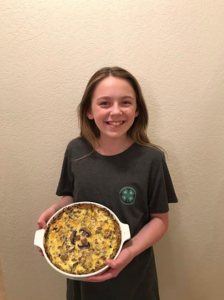 Amelia Creamery congratulates Karson Potter for winning the junior division of the MIO 4-H recipe contest!  Karson used Amelia Yogurt along with other local Made in Oklahoma products in her Southern Brunch Quiche.
Source:  Robert M. Kerr Food and Agricultural Products Center Facebook Page
The FAPC team is proud to introduce Karson Potter, first place Oklahoma 4-H winner in the junior division of the 2020 Made in Oklahoma Coalition 4-H Recipe Contest from Oklahoma County. Her Southern Brunch Quiche with a Vegetable Crust features products from Hiland Dairy Foods, Scissortail Farms, Lovera's Cheese Company, J-M Farms, Greer's Ranch House Sausage and Amelia Creamery. See below for her recipe and try it out in your kitchen tonight.
RECIPE
Ingredients:
Crust
1 large potato
2 medium zucchini
4 Tbsp unsalted Hiland butter
Salt
Pepper
Filling
1/2 pound Greers Ranch House spicy sausage
1 cup chopped J&M fresh mushrooms
1/4 tsp salt
1/4 tsp pepper
1/4 tsp onion powder
1/2 tbsp of Scissortail Farms fresh chives (chopped)
1 tbsp of Scissortail Farms fresh sage (chopped)
1/2 cups Hiland cheddar cheese (shredded)
1/2 cups Loveras Caciocavera aged cheese (shredded)
6 large eggs
5 oz Amelia Natural French Style Yogurt, plain
Cooking/preparation directions:
Preheat oven to 425 degrees. Peel and shred potato. Shred zucchini. Sprinkle lightly with salt and allow to set for 5 minutes to pull out moisture. Wrap potatoes in cheese cloth and squeeze out moisture. Repeat with zucchini. Measure 1 1/2 cup of each. In a large bowl mix together butter, zucchini and potato. Add salt and pepper to taste. Press into the sides and bottom of a pie pan to make a crust.
Cook for 25-30 minutes until it begins to brown. In a large skillet brown and crumble sausage. Set aside to cool. Saute mushrooms on high heat until brown and there is no liquid in the pan. Set aside to cool. In a large bowl mix together cooled sausage, cooled mushrooms, salt, pepper, onion powder, chives, sage, and cheese. Pour into the crust and spread evenly. in a separate bowl whisk together eggs and yogurt. Slowly pour over sausage and cheese
mixture in the crust. Turn oven down to 350 and bake for 25-30 minutes or until a knife inserted into the center comes out clean.
Tip: Lightly cover edges of the crust with strips of foil to prevent the crust from burning.